The Office of Emergency Services (OES) is responsible for ensuring that the campus is well-equipped to respond to large-scale disasters. This includes, but is not limited to: 
Recommending and procuring emergency supplies for mission critical functions and personnel;
Training Emergency Operations Center (EOC) members and other relevant personnel;
Facilitating and tracking emergency exercises and drills;
Serving as the subject matter expert for all things emergency management related;
Developing relationships with external agencies; and
Spearheading outreach efforts to ensure the Campus community is kept apprised of emergency preparedness resources and initiatives.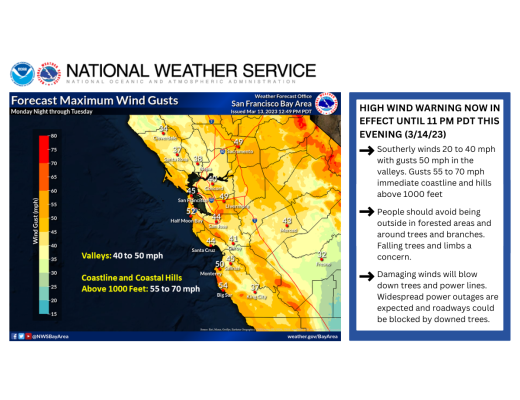 3/14/23 Exercise Caution: High Winds and Fallen Trees
With high winds and fallen trees on and around campus, please exercise increased caution while traveling. Specifically:
Be aware of your surroundings. Look up and remain vigilant.
Don't congregate under trees.
Avoid using headphones or looking down at your phone to remain alert.
Please also avoid any areas on campus closed off with caution tape. That includes the following areas (there could be more later, since the high wind alert is still in effect):
The courtyard behind the Health and Social Sciences (HSS) and Business buildings
Access road / bike path to campus behind Cox Stadium
Main road from Quad down to Cox Stadium running between Gym and Thornton Hall
Select Areas on the main Quad    
To report any downed trees, the service desk may be reached at 415-338-1568, or facilities@sfsu.edu  
2/21/2023 High Wind Advisory
High winds are expected throughout today and into tomorrow. Be cautious of falling branches and trees on campus, be safe on the roads, and bundle up! 
1/4/2023 Weather Update
Due to the potential for widespread flooding, mud/landslides, and impassable roads, SF State employees who can work remotely should do so Wednesday and Thursday, January 4-5. If conditions worsen and additional actions are taken by the campus, employees and students will be notified by email and by the campus's emergency notification system, SF State Alert. Employees can opt-in for SF State Alert by following the steps here (Office of Emergency Services website.) 
USGS Aftershock Forecast 
October 25th, 2022 4:36pm
According to USGS forecast, there is a 1% chance of one or more aftershocks that are larger than magnitude 5, which can be damaging, within the next week. There will likely be smaller aftershocks within the next week, with up to 6 magnitude 3 or higher aftershocks. Magnitude 3 and higher aftershocks are large enough to be felt nearby. 
Magnitude 5.1 Earthquake Today Near San Jose, No Impact to Campus  
October 25th, 2022 3:15pm
An earthquake was felt across the Bay Area at 11:42 a.m. this morning, October 25, 2022. Preliminary reports are that it registered 5.1. on the Richter scale and was centered 12 miles south of San Jose.
At this time, there are no reports of significant impacts on SF State campuses, and there are no anticipated disruptions to University activities, classes or business.
Please remain vigilant, since aftershocks are always possible. In the event of an aftershock, Duck, Cover and Hold until the shaking stops. Report emergencies by calling 911.
MyShake Alert is a great tool for imminent earthquake warning, learn more here.